Winter Family Fun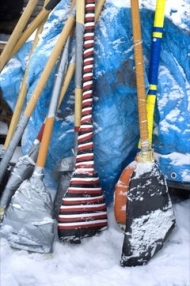 Saturday, Feb. 10, Noon
The pond isn't just for swimming, zip lining and pic-a-toon-ing! When was the last time you went ice skating? Want to try your hand at catching a fish through a hole in the ice? Ever heard of broomball*? Grab your cold-weather gear and head to Richard and Holly Freund's pond for some winter fun. The bonfire will be gong the warming house will be cozy and hot cocoa and lunch being served! When signing up please indicate if you are interested in playing on a broom ball team as each team should have at least 5 players.
-Broomball is called "the poor man's hockey" - popular in the upper Midwest. It is played on the ice between two goal nets using a foam ball. Players wear boots instead of skates and use a homemade broom. Straw brooms will be provided by church with instructions on how to customize. For all ages!
-Ice fishing equipment and bait provided.
-Skate rentals are available for $20/day at "Sun City Cyclery and Skates" in Sun Prairie.
Register
The pond is located just east of the Freund's farm shown on the map below.