Utica Shoot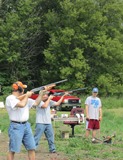 Saturday, August 26, 2 p.m.
You are invited to Richard Freund's farm,
1273 E. Church Rd, Cambridge.

Join us for this coed event. Targets will be set up for pistol practice as well as sighting in your rifles and bows. For shotgun lovers, we will be slinging clay pigeons to test your skill. Food and beverages provided after the shoot. Bring your own guns and ammo as well as protective hearing and eye wear. If you are unfamiliar with firearms, you are welcome to attend. An experienced person will introduce you to the safe handling of firearms and will have a variety of guns to try, if you choose.
After a quick safety briefing on gun handling and shooting etiquette, the shoot begins. No tournament or prizes - just come for the fun.
Register
Map